Welcome to the Official Website for the Iselin Volunteer Fire Company #1
The Iselin Volunteer Fire Company #1 is one of nine fire companies protecting Woodbridge Township, which is New Jersey's fifth largest municipality encompassing 27 square miles and a population of 105,000 people. Our district, covering approximately six square miles, is quite diverse and includes high rise office and hotel buildings (Hilton, Marriott Renaissance, Days Inn), the Northeast Corridor's MetroPark train station, commercial occupancies and shopping centers, highways (Garden State Parkway, US Route 1, US Route 9), a chemical research and development facility (BASF), and residential units including apartment buildings, senior citizen complexes, and single and multi-family homes.
The Iselin Volunteer Fire Company #1 is all volunteer. We respond from two fire stations, and our members provide fire fighting and rescue services to the residents, workers, and visitors of the Iselin and Menlo Park Terrace sections of Woodbridge Township 24 hours a day, seven days per week. We have a proud 94 year tradition of dedicated community service dating back to our founding by concerned citizens in 1922.
Please take a tour of our website to learn more about your fire company and your firefighters, and get updated on our latest activities and the community events being sponsored by the fire company.
Visit us again soon to get the latest news and updates on our activities and, as always, stop by and visit us at the firehouse.
If you have any questions or comments, feel free to e-mail us at the link below.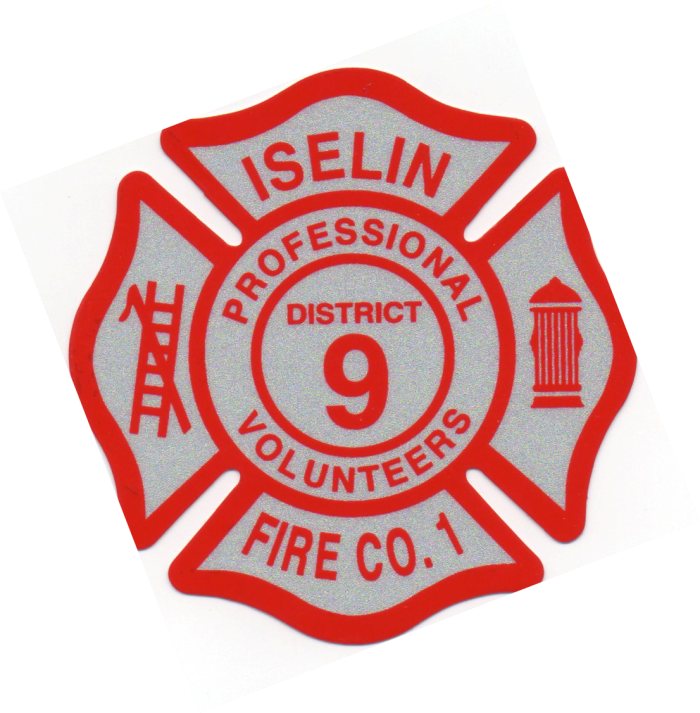 Your feedback is important to us! Feel free to sign the
guestbook
.
Early Morning Car Fire

Ex-Chief Brian Bennett, September 16

At 0545, Iselin 9 was dispatched to Outlook Court on the report of a car fire. Upon arrival, Deputy Chief Gethard reported a fully involved car with extension to a second car. Crews from 9-2 and 9-5 quickly extinguished the fire with an 13/4" handline, minimizing the damage to the second car.... (Full Story & Photos)

Firefighters Complete Fire Behavior Training

Ex-Chief Brian Bennett, July 26

Your firefighters recently completed intense firefighting training utilizing the Swede Phase 5 Flashover Simulator at the Somerset County Fire Academy. This system allows for a progressive learning process when training firefighters about the characteristics of fire. Firefighters had the opportunity to observe fire behavior and the signs that lead to phenomena like a flashover and gain tremendous ... (Full Story & Photos)



Mayor McCormac and Councilman Major wet down the new fire engine.

Engine Dedication and Celebration

Ex-Chief Brian Bennett, June 11

The Fire Company held a dedication of our new 2015 Seagrave fire engine today. Chief Geary welcomed our guests, and Mayor McCormac, Assemblyman Coughlin, and Council members Major, Spillar, and DeJesus said a few words. The engine was blessed by Fire Company Chaplin Bob Sullivan followed by the traditional wet down.

At the conclusion of the wet down, fire apparatus paraded to Merrill Park where food, ... (Full Story & Photos)

Thank You Famous Dave's!

Ex-Chief Brian Bennett, June 01

The Fire Company presented a plaque to Famous Dave's Restaurant located on Route 1 for their long standing support of the fire company over the years. The plaque was presented to Store Manager Sandy.... (Full Story & Photos)



Thank you plaque presented to Famous Dave's Store Manager Sandy Urgilez by FF Kevin Williams (L) and Chief Joe Geary (R).

House Fire on Bedford Avenue Quickly Extinguished

Ex-Chief Brian Bennett, May 09

Districts 9 and 11 were dispatched to Bedford Avenue on a report of a structure fire. Upon arrival, Chief Geary reported a working fire with heavy smoke coming from the structure and requested a full first alarm. First due Engine 9-2 stretched an 1 3/4" handline through the front door and quickly extinguished the fire while Ladder 11-2-1 went to the roof. No injuries were reported.... (Full Story & Photos)

Truck Fire Closes Route 9

Ex-Chief Brian Bennett, April 07

Firefighters from Districts 9 and 11 battled a blaze that engulfed a tractor trailer on Route 9 in Woodbridge as the sky filled with smoke shortly before 10 AM this morning.

There were no injuries in the fire, which firefighters were able to extinguish readily. ... (Full Story & Photos)

Car Fire During Blizzard

Ex-Chief Brian Bennett, January 23

At approximately 2:35 PM, during the height of the blizzard, units were dispatched to Michael Street for a reported car fire. Arriving units found a car stuck in the snow and fully involved. Engine 9-2's crew quickly extinguished the fire.... (Full Story & Photos)

Structure Fire On a Cold Day

Ex-Chief Brian Bennett, January 18

On a cold day with temperatures in the teens, Districts 11 and 9 were dispatched to East Iselin Parkway on a report of smoke in the area. First arriving units found a heavy smoke condition coming from a house. Three handlines were stretched, and crews quickly extinguished a well involved basement fire with extension to the first floor. ... (Full Story & Photos)