Welcome to the Official Website for the Iselin Volunteer Fire Company #1
The Iselin Volunteer Fire Company #1 is one of nine fire companies protecting Woodbridge Township, which is New Jersey's fifth largest municipality encompassing 27 square miles and a population of 105,000 people. Our district, covering approximately six square miles, is quite diverse and includes high rise office and hotel buildings (APA, Marriott Renaissance, Days Inn), the Northeast Corridor's MetroPark train station, commercial occupancies and shopping centers, highways (Garden State Parkway, US Route 1, US Route 9), a chemical research and development facility (BASF), and residential units including apartment buildings, senior citizen complexes, and single and multi-family homes.
The Iselin Volunteer Fire Company #1 is all volunteer. We respond from two fire stations, and our members provide fire fighting and rescue services to the residents, workers, and visitors of the Iselin and Menlo Park Terrace sections of Woodbridge Township 24 hours a day, seven days per week. We have a proud 95 year tradition of dedicated community service dating back to our founding by concerned citizens in 1922.
Please take a tour of our website to learn more about your fire company and your firefighters, and get updated on our latest activities and the community events being sponsored by the fire company.
Visit us again soon to get the latest news and updates on our activities and, as always, stop by and visit us at the firehouse.
If you have any questions or comments, feel free to e-mail us at the link below.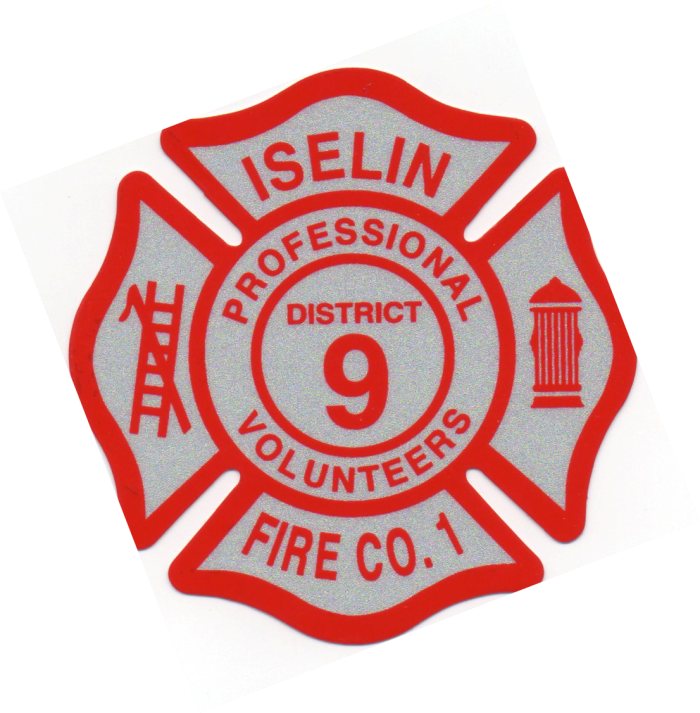 Your feedback is important to us! Feel free to sign the
guestbook
.
3 Hospitalized in House Fire

Captain Brian Bennett, March 17

Districts 9 and 11 were dispatched at 1:22 AM this morning to a report of a structure fire at 107 Cooper Avenue. Upon arrival, Deputy Chief Gethard reported heavy fire showing in a 2 story residence and requested a second alarm. An aggressive interior attack utilizing three hand lines led to quick extinguishmnet of the fire. 3 occupants of the home were taken to the hospital by Woodbridge Township ... (Full Story & Photos)

Change Your Clock, Change Your Batteries!

Captain Brian Bennett, March 12

As Daylight Savings Time begins, the U.S. Fire Administration (USFA) and the Iselin Volunteer Fire Company #1 encourages you to mark the occasion as a time to test your home smoke alarms and carbon monoxide detectors and replace the batteries if more than one year old. Checking and changing batteries in smoke alarms and carbon monoxide detectors, along with other home safety devices, will only take ... (Full Story & Photos)

Help Us Help You - Keep Fire Hydrants Clear of Snow and Ice

Captain Brian Bennett, February 08

If there is a fire hydrant by your house, do your part to keep it accessible this winter. After a snowfall, make a clear zone around the fire hydrant. Remove any snow and ice around the hydrant to make a perimeter 3 feet around so firefighters can work. Also clear a path from the hydrant to the street.

In the event of a fire, this will save your firefighters valuable time!... (Full Story & Photos)

Santa Visits Fire House

Captain Brian Bennett, December 11

Santa Claus paid a visit to the firehouse today, bringing gifts to the members children and grandchildren. Each child had the opportunity to speak with Santa and shared cupcakes and milk with him. Santa was ably assisted by firefighters who served as elves.... (Full Story & Photos)



Santa Claus with elves Christian Pirozzoli and Matt Murdoch.


The Staples on Route 1 was used as a staging area for fire units.

Propane Leak Closes Route 1

Captain Brian Bennett, December 05

At approximately 5:30 PM, Districts 9 and 11 were dispatched to the Days Inn on Route 1 for a reported gas leak. Upon arrival, Captain Bennett reported propane was leaking from a tank truck in the parking lot and requested a first alarm plus the Middlesex County HAZMAT Team. Due to elevated levels of propane in the area, the Ivy Stone Diner and the Days Inn Hotel were evacuated, and Route 1 South ... (Full Story & Photos)


2017 Fire Company Officers Sworn In

Captain Brian Bennett, December 04

The 2017 Fire Company officers were sworn in by Mayor John McCormac this afternoon.

The Firematic Officers are Chief Joe Geary, Deputy Chiefs Joe Gethard and RJ McPartland, Captains Brian Bennett and Anthony Harland, and Lieutenants Kyle Pirozzoli and Ken Creighton.

The Executive Officers are President Perry Penna, Vice President Sam Harland, Secretary Matt Murdoch, and Treasurer Bob Sullivan.

Congratulations ... (Full Story & Photos)



(L-R): Deputy Chief Joe Gethard, Deputy Chief RJ McPartland, Chief Joe Geary, Captain Brian Bennett, Lieutenant Ken Creighton.

Another Car Fire on Route 1

Ex-Chief Brian Bennett, October 14

District 9 responded to another car fire on Route 1 today. Upon arrival of Engine 9-2 at Woodbridge Crossing, Ex-Chief Bennett reported an engine compartment fire. Crews from 9-2 and 9-6 quickly extinguished the fire.... (Full Story & Photos)

Car Fire on Route 1

Ex-Chief Brian Bennett, October 04

Districts 9 and 11 were dispatched to Starbuck's on Route 1 North. Upon arrival, Deputy Chief Gethard reported a fully involved SUV. Crews made quick work of the fire, protecting the cars parked alongside. ... (Full Story & Photos)