Welcome to the Official Website for the Iselin Volunteer Fire Company #1
The Iselin Volunteer Fire Company #1 is one of nine fire companies protecting Woodbridge Township, which is New Jersey's fifth largest municipality encompassing 27 square miles and a population of 105,000 people. Our district, covering approximately six square miles, is quite diverse and includes high rise office and hotel buildings (APA, Marriott Delta, Days Inn), the Northeast Corridor's MetroPark train station, commercial occupancies and shopping centers, highways (Garden State Parkway, US Route 1, US Route 9), a chemical research and development facility (BASF), and residential units including apartment buildings, senior citizen complexes, and single and multi-family homes.
The Iselin Volunteer Fire Company #1 is all volunteer. We respond from two fire stations, and our members provide fire fighting and rescue services to the residents, workers, and visitors of the Iselin and Menlo Park Terrace sections of Woodbridge Township 24 hours a day, seven days per week. We have a proud 97 year tradition of dedicated community service dating back to our founding by concerned citizens in 1922.
Please take a tour of our website to learn more about your fire company and your firefighters, and get updated on our latest activities and the community events being sponsored by the fire company.
Visit us again soon to get the latest news and updates on our activities and, as always, stop by and visit us at the firehouse.
If you have any questions or comments, feel free to e-mail us at the link below.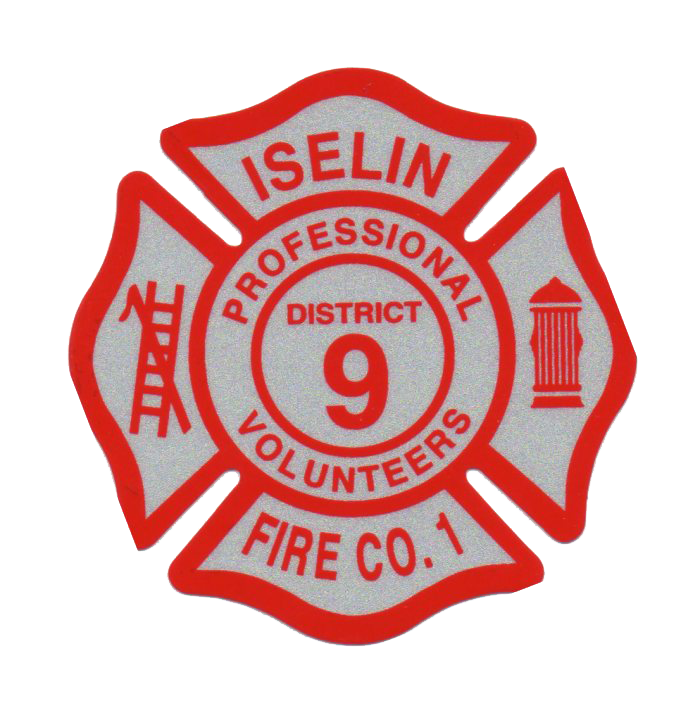 Your feedback is important to us! Feel free to sign the
guestbook
.
Car Fire on Parkway

Deputy Chief Brian Bennett, September 20

On September 19 at 2115 hours, Iselin District #9 was dispatched to the Garden State Parkway South at mile marker 131.5 for the reported vehicle fire. While enroute Deputy Chief Creighton confirmed a vehicle fire from a distance. DC Creighton arrived reporting a 2 car MVA with 1 vehicle's engine compartment fully involved. Engine 9-2 Firefighters A. Karlin and J. Joyce deployed a 100 foot bumper ... (Full Story & Photos)

Structure Fire in Menlo Park Terrace

Deputy Chief Brian Bennett, August 09

District 9 was dispatched for a report of smoke coming from the house at 36 Atlantic Street. Upon arrival, Chief McPartland reported a working fire and filled out the first alarm assignment. First arriving crews used a transitional attack to knock down the fire, then entered the house for extinguishment. Iselin 11 and Hopelawn assisted at the scene. ... (Full Story & Photos)



Smoke seen exiting the rear of the house.



Avenel Junkyard Fire 7/21

Busy Week for Iselin Firefighters

Lieutenant TJ Karlin, August 02

The firefighters of Iselin 9 were very busy over the course of the last week answering four mutual aid assignments while handling several calls within the district.

At approximately 11:00 pm District #9 was dispatched on a 1st alarm assignment into Avenel for a confirmed junkyard fire secondary to a transformer explosion. Upon arrival the crew on Engine 9-2 was put right to work by conducting a search ... (Full Story & Photos)

Car Fire on Route 9

Deputy Chief Brian Bennett, May 02

District 9 was dispatched to a car fire on the ramp from Route 9 North to Green Street. Upon arrival, Deputy Chief Bennett reported an engine compartment fire. The crew from first due Engine 9-2 quickly extinguished the fire, and no injuries were reported.... (Full Story & Photos)

Kitchen Fire Extinguished

Deputy Chief Brian Bennett, April 25

Iselin 9 was dispatched to a smoke condition at Angeethi Restaurant at 849 Green Street. Upon arrival, Chief McPartland reported a fire and filled out the first alarm assignment. Crews from Engine 9-2 and 9-5 extinguished a kitchen fire while crews from Truck 9-2-4 and 11-2-1 went to the roof to check for extension and extinguish fire in the exhaust vent.... (Full Story & Photos)

Iselin FD Honors Marine Staff Sergeant Christopher Slutman

Deputy Chief Brian Bennett, April 22

Iselin FD was proud to display the US flag from Truck 9-2-4 for the procession transporting the remains of U.S. Marine Staff Sgt. and FDNY Firefighter Christopher Slutman, killed in an Afghanistan roadside bombing, to a Bronx funeral home. Fire departments across New Jersey manned bridges over the NJ Turnpike to pay their respect and honor Sergeant Slutman's service to our country and the City of ... (Full Story & Photos)

Car Fire Knocked Down Quickly

Deputy Chief Brian Bennett, April 12

District 9 was dispatched to a report of a car fire at 112 Worth Street. Upon arrival, Chief McPartland reported an engine compartment fire in a car parked in the driveway. Crews used an 1 3/4" hand line to extinguish the fire and ensure the fire did not spread to the house.... (Full Story & Photos)